Week 4 - September 27 & 28, 1998
Week 4 has come and gone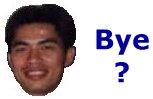 Danny continues his struggle to comprehend the concept of "bye week"
The Commish comes alive
Bob rolls, and............
Dave's Vikings get off the schneid
All games were decided this week before the Monday night game....that's a first for CBFFL.
Danny handed a victory to a grateful David 94-114. Jerry Rice and Danny's only active kicker rode the pine, muttering evil thoughts, and keeping their collective 43 points all to themselves. Happy David saw Brett Favre return to his 1995 form with 37 pts. Donnell Bennett and Robert Smith also bonused for David. Fred Taylor continued to carry the load for "Clueless, but not as clueless as Jeff" Danny. David improved to 3-1 on the year, while Danny fell to 2-2. Danny is only 20 pts from being the low point total for the year, but has managed to eke out 2 W's.
Jerry continued to score well, but met with a lucky week from Brad, losing 161-103. Terance Mathis led Jerry to within 1 pt of his coaching maximum with 26 pts. The Commish took 37 more from Steve "Mr. Geritol" Young, and double digits from Davis, Faulk, Lewis, Still, and the NY Giants. Brad improved to 2-2 on the year, tied with Danny, who he has outscored by over 150pts. Jerry fell to 1-2-1.
Bob rolled over a hapless Steve 123-71. Steve is just going to have to find a new team mascot...let's all provide him with some suggestions. He's hoping to get the same kind of solid productivity out of Greg Hill that he came to expect from Tarik Smith. "Mr. 100 plus points" Bob took solid weeks from Brunell, Hearst, Kaufman, and the league's leading receiver Michael Westbrook to the bank. Bob improved to 4-0, 3 games and 170pts ahead of Steve's 1-3. Better luck this week against David, Steve.
The comeback surprise of the week saw previously lifeless Dave knock Dan on the jaw 123-115. Dan's highest score of the year went unrewarded, as Carl Pickens and his 25 pts watched from the bench. Dave had 4 players over 20 pts....Cunningham, Lamar Smith, Duce Staley, and Yancey Thigpen. The Seattle defense dropped to a mere 2 pts this week, endangering their top 20 overall position ranking. Dave stands 1/2 a game behind Dan's 1-2-1 record at 1-3.