Week 13 November 26 & 30, 1998
4 coaches accomplish their high score for the year
Dan and Bob obliterate the Commish's records
Older bro' punishes kid bro'
Steve eclipses the century mark in losing effort
Danny gets shellacked

DDan scored a record 175 pts this week, possibly earning himself his first fantasy football money ever. Bob also had a great week with 148 pts, our highest losing score this year. That's a lot of points, and both coaches could have score another 25-30 pts with high scores on their bench. Dan moved out of his customary 6th place and into the rarified air of 4th, tied with David at 6-6-1 on the year. Bob has sewn up 6th place for a while at 5-8 (after starting 4-0). Great weeks from all players on both teams. Bob with 5 players over 20 pts and 2 more over 20 on his bench. Dan with 7 players in double digits (including Moss at 35) and 3 more double digiters on the bench.

Jerry's team scored early and often as he bitch-slapped Bob, 123 - 87. Bob's jaw is out-a-whack from all the slappin' he's been taking the last five rounds. Jerry could have tacked on another 18 points but miscalculated Kordell Stewart's monthly wake-up game. Emmitt Smith had a banner day for Jerry which left Chris Warren watching from the sidelines. Hence the name for David's team. Bob coached a good game, but even the best of bitches can't beat a bonusing vermin.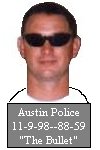 Forest Advisory, Attention, All Pigs! Be on the lookout for Steve "the bullet" Thornton. He's got that look in his eyes again. Similar to that of his bench which almost outscored his starters. Brad defeated Steve 88 - 59, with the help of Chris "I'm not hurt in week 10" Chandler riding the pine. Other coaching choices by Steve could have avoided a repeat performance of squeals in the forest which leads one to wonder if this was the plan all along. Brad knocks heads with Jerry next week and his two-week 130 point average. It's naptime for Kordell again, play Warren Moon, Jerry.